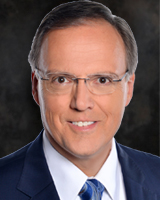 Tim Heller - Chief Meteorologist - ABC 13 - Houston, Texas
Challenges of Forecasting and Communicating Impacts of Hurricane Harvey
Hurricane Harvey wasn't supposed to be a major hurricane. Early forecast models showed the storm dissipating over southern Mexico. But as is often the case, the early models were wrong. In addition to tracking a rapidly developing major hurricane, meteorologists along the Gulf coast were tasked with forecasting the impacts of a stalled storm expected to produce unbelievable amounts of rain. This presentation looks at the challenges of communicating an unprecedented meteorological disaster.
Dr. Eric Bruning - Associate Professor - Atmospheric Scrience - Texas Tech University
Meteorological imagery from the GOES-16 Geostationary Lightning Mapper

Additional Information will be added about the 2018 Texas Weather Conference Keynote Speakers at a later date.